Sign up to help during Collection Week!
We need volunteers to help collect boxes at The Center during National Collection Week!
Monday, November 16 from 3:00 PM - 6:00 PM
Tuesday, November 17 from 3:00 PM - 6:00 PM
Wednesday, November 18 from 3:00 PM - 6:00 PM
Thursday, November 19 from 3:00 PM - 6:00 PM
Friday, November 20 from 3:00 PM - 6:00 PM
Saturday, November 21 from 12:00 PM - 3:00 PM
Sunday, November 22 from 1:00 PM - 4:00 PM
Monday, November 23 from 9:00 AM - 11:00 AM
If you are able to help collect boxes during any one of these times, please sign up using the form below and we will contact you to place you on the schedule!
What is Operation Christmas Child?
The mission of Operation Christmas Child is to provide God's love in a tangible way to children in need around the world, and together with the local church worldwide, to share the Good News of Jesus Christ.
Every year, Samaritan's Purse collects shoebox gifts filled with toys, school supplies, and hygiene items for children around the world. Since 1993, more than 178 million children in more than 150 countries have received an Operation Christmas Child shoebox. The project delivers not only the joy of what, for many kids, is their first gift ever, but also gives them a tangible expression of God's love. Tens of thousands of volunteers from local churches around the world partner with us to present the Gospel of Jesus Christ at festive outreach events where children are surprised with these shoebox gifts.
We are so excited to announce that Northbend Church will be a shoebox drop-off location for 2020!
How do I pack a shoebox?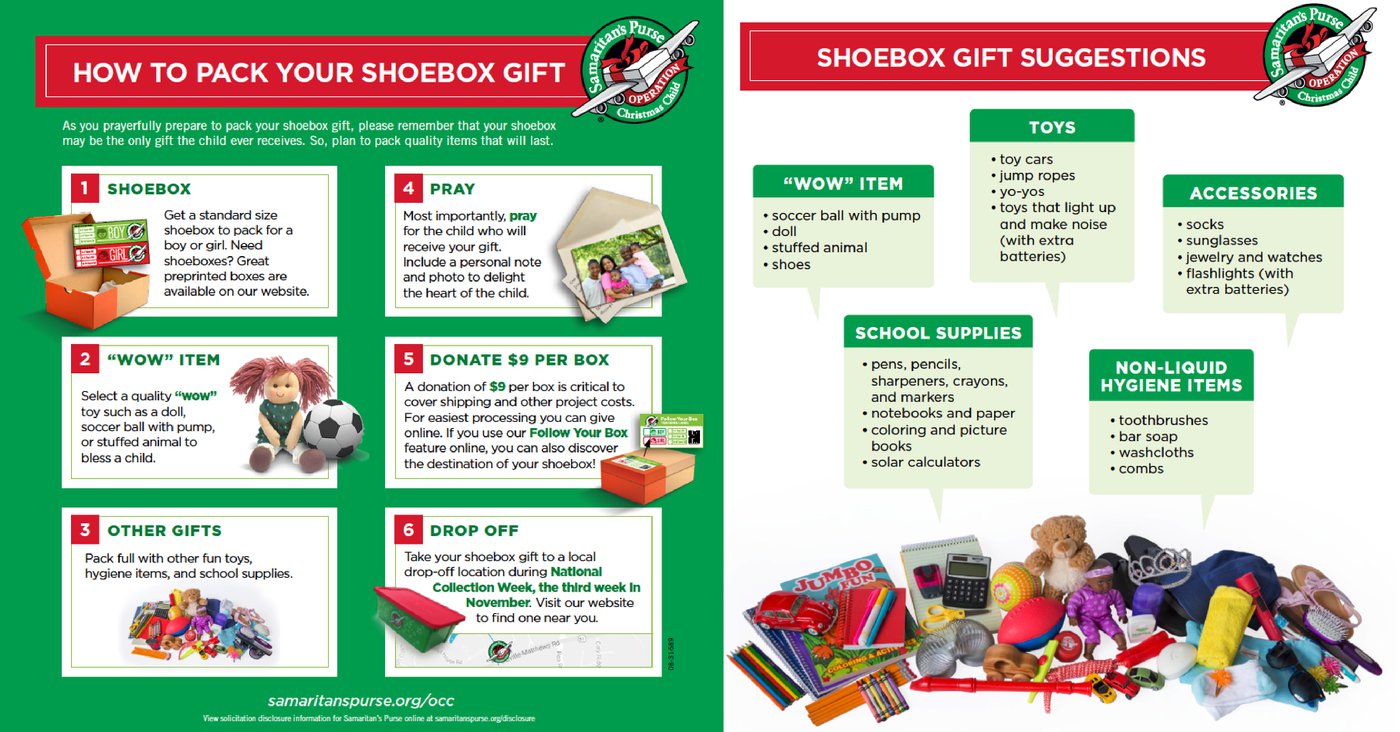 For more information on packing shoeboxes, please click HERE!
Operation Christmas Child 2020